Capitalise on the Advantages of an Epoxy Garage Floor
A surface that undergoes frequent traffic of vehicles and pedestrians requires constant maintenance to prevent it from cracking and eventually breaking down. However, an epoxy garage floor has the potential to last several years with minimal care. The key material is the epoxy paint that solidifies and strengthens the concrete to increase its durability. Sydney Wide Painters has been assisting residential, commercial and industrial clients with their epoxy flooring in Sydney for several years. If you're thinking about refurbishing an outdated floor or sealing your existing concrete surface, an application of epoxy paint not only fortifies the surface but increases the aesthetics.
Benefits of Residential Epoxy Flooring in Sydney
This type of floor coating has proven to help preserve concrete surfaces and protect it from the frequent traffic and wear it withstands. It's never too late to apply epoxy onto Sydney floors and limit the damage. Furthermore, the natural finish of epoxy paint is shiny, which adds a degree of sophistication. If you're undecided about applying this paint to your garage floor, these benefits may change your mind.
The primary advantage of epoxy flooring is the fact that is covers up any defects and damage already present on the surface. Your garage at home is the place where you park your vehicles for long periods. As a result, certain elements affect the condition of the surface. Excess oil, remnants of your tyres and the sheer weight of your vehicle is enough to corrode the concrete gradually. However, when you add an epoxy coating in the form of paint, it shields the floor from these elements and contributes positively to the appearance of the room with its natural shine.
Reinforcing your floors shouldn't be a costly exercise, and when you compare epoxy coating to other options, it's clear that this is a cost-effective solution. If you had to decide on installing new tiles or vinyl flooring, you'd have to remove the old elements to begin the process. As a result, you can expect it to be an expensive renovation even though these materials aren't meant for a garage floor where there are components it can't withstand. Apart from renewing your flooring in a short space of time, epoxy flooring is easy to install and highly durable. Your garage floor may require two coats to seal the surface thoroughly, but it maintains its cost-effectiveness.
Once you've applied an epoxy finish to your garage floor, it requires little maintenance to function as expected. Covering concrete reduces the amount of dust and cement particles that become loose and end up lifting off the surface. Sweeping away the dust off the shiny epoxy floor is simple, and you can use a mop with any detergent, apart from acidic liquids, which can dull the shine.
RESIDENTIAL PAINTING
With more than 16 years experience in painting residential homes in Sydney.
COMMERCIAL PAINTING
Sydney Wide Painters offers outstanding industrial painting services at exceptional prices.
ROOF PAINTING
At Sydney Wide Painters & Decorators, we know the importance of adding value to your home.
FREE COLOUR CONSULTING
Sydney Wide Painters know the importance of choosing the right colour(s) for your house.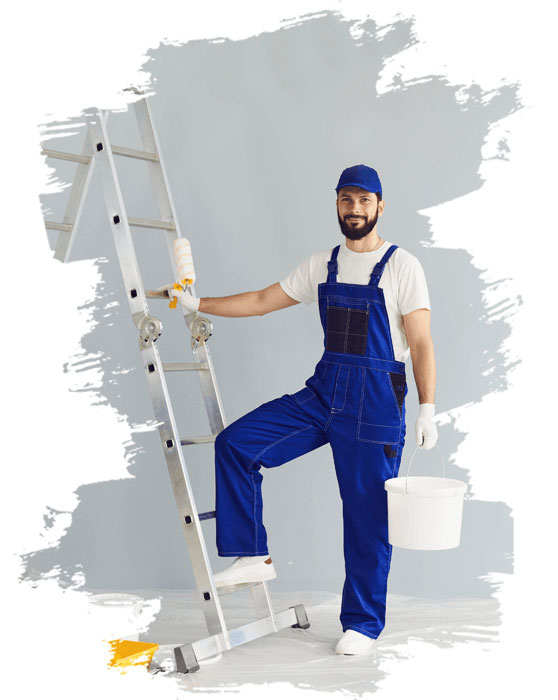 What to Expect from Sydney Wide Painters Regarding Epoxy Flooring Services
Building contractors and managers around Sydney know that we're the go-to people for epoxy services. Over our years of operation, we've built a reputation to be professional and reliable. Our team possesses the necessary skills and experience to tackle any project, regardless of its size.
We follow five steps when painting garage floors, which include inspecting and generally cleaning the floor. After that, we acid wash or etch the floor to remove any unwanted particles. Finally, the team applies two coats of epoxy paint to cover any old stains and adequately seal your surface.
We use quality materials coupled with the correct method of preparation and operate unobtrusively. To highlight the confidence we have in our work, we offer a five-year workmanship guarantee. We add this to the ten-year manufacturer's guarantee, stated in the warranty certificate that we provide after completing the project.
We're aware of the possibility of accidents occurring on-site and have liability insurance to cover you for any unexpected costs. To become the leader in the industry, we offer a colour consulting service where a Dulux colour consultant assists with selecting the ideal colour paint for you, absolutely free.
About Sydney Wide Painters
If you had to ask anyone about Sydney epoxy flooring, they'd point you to our talented team. We've been in the industry for over 15 years and continue delivering exceptional results with every client.
Contact us for a free, no-obligation quotation and improve your garage floor.